← Back
Sweet Greetings
$6.00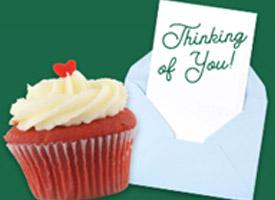 You don't need a birthday to celebrate with a delicious cupcake! Send a jumbo cupcake and a greeting card to your student to brighten their day!
Cupcake Flavor Selections: Salted Caramel, Chocolate Ganache
Pick-ups are only available anytime between 11am-5pm, Monday-Friday
To ensure the freshness and safety of our products, it is the student's responsibility to pick up their Treat-A-Bull on the day selected between 11am-5pm. Your student will be contacted by one of our team members once the order is placed for when they are to pick up their Treat-A-Bull.